Brandon Kiesgen – Director of Bands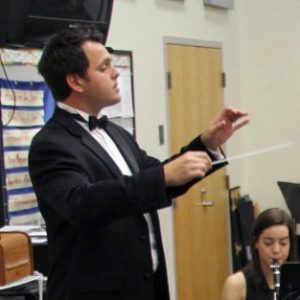 Brandon began his journey into music in the fifth grade playing the Euphonium. Since then, his adventure has been rewarding. He attended the Curry Summer Music Camp at Northern Arizona University for 6 years while participating in his local band programs from 6th grade through high school. In 2003, Brandon was the principal euphonium player for the Arizona All-State Band. From 2002-2004 Brandon performed with the Academy Brass & Percussion Ensemble (Now the Academy Drum & Bugle Corps) during the ensemble's first years of inception. Participation in the ensemble and Drum Corps International provided great experience in the marching arts. From high school, Brandon was accepted to Arizona State University where he received his Bachelor's degree in Music Education and studied euphonium performance with world-renowned performing artists Sam Pilafian and Patrick Sheridan. From 2008-2012 Brandon his first teaching position as the Associate Director of Bands at Basha High School in the Chandler Unified School District. During these years, the marching band won the Western Band Association 3A Championships in 2011 and the Basha Indoor Percussion Ensemble won WGAZ State Championships six years in a row. In 2013, Brandon was awarded a Master's degree in Music Education from Kent State University. Brandon's performance experience consists of prior membership with the Salt River Brass Band of Arizona from 2007-2013, various community performances and solo performances. Since 2012, he fulfills his lifelong passion for music by sharing the experience with his students at Perry High School. Brandon enjoys spending his precious spare time with his loving wife Carrie and two sons Grayson & Liam.
Benjamin Sampayan – Associate Director of Bands
Benjamin began playing the trumpet in the fifth grade at the age of eleven. During his time in high school he participated in numerous festivals, theatre productions, and competitions. He has also performed regularly with the Salt River Brass, Sonic Brass, Arizona State Sun Devil Marching Band, and various churches throughout the valley. He taught himself the guitar during high school and continued his learning through college instruction. In December of 2014 Benjamin graduated summa cum laude from Arizona State University with a bachelor's degree in Music Education.