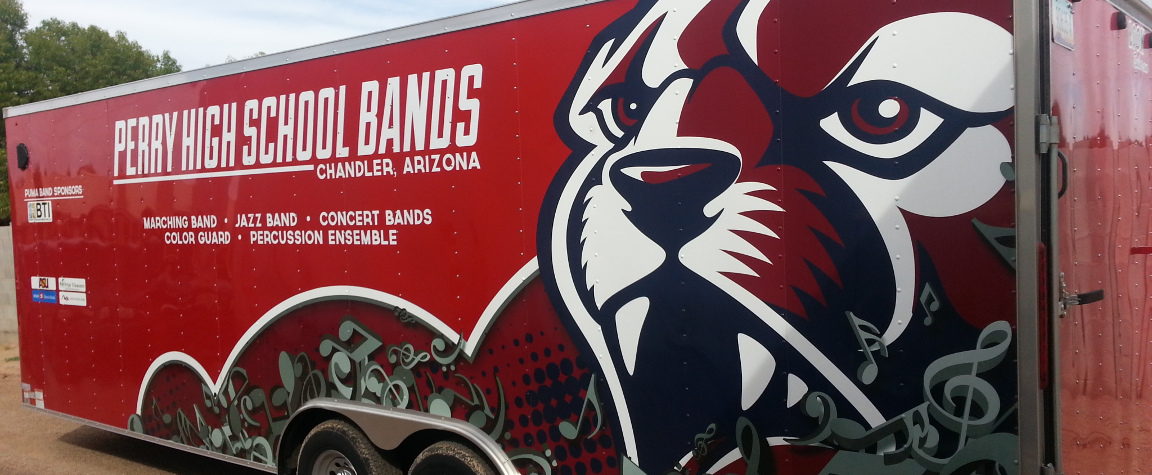 Sponsor the Perry Bands
Dear Parents, Business Owners and/or Managers,

Perry High School opened its doors in 2007 in the Chandler Unified School District. The school quickly began to assemble a strong music program, most recently joining the Valley's top tier bands, now competing at the Division 1 level. The program is comprised of Marching Band, Concert Bands, Jazz Band, Percussion Ensembles and Colorguard. The programs compete at state and national competitions in Arizona and California. We are always very excited for the upcoming seasons. It is important for our youth and our community that the program continues to thrive and grow. This will only be possible with support from our families, communities, local businesses and corporations.

Program Overview:
Student's families and the band boosters provide the majority of the dollars needed for maintenance and operations of the program. We have two areas that we are targeting to benefit from your generous donation:

♦ General Operations – This includes technical staff, transportation, equipment, uniform and show expenses. The technical staff is vital to our program by helping us refine musical and visual aspects of the program.

♦ Capital Needs – Music instruments and equipment are expensive. Sometimes these items are acquirable through school capital funds but that isn't always the case. The boosters strive to give the students their best tools to succeed. Sponsorships can help attain these needs to support an evolving band program.

Your support in providing financial or equivalent services (i.e. meals) is vital in order for the band to grow and continue to flourish in challenging economic times. Our goal as a booster organization is to ensure all students have a great experience while they are in the music program and maintain the financial foundation of the program. For local businesses, many of our "Band Families" already visit your establishments and making this commitment will enhance those relationships over the upcoming years.

Perry Band Sponsorship Options:
You can choose from the following options:
1. Platinum Package – $1,000 or more contribution or equivalent service
Federal Tax Deduction letter – Chandler School Boosters is a non-profit organization
Advertisement in the programs at all of our concerts (Platinum Section)
Announcements to encourage the "Band Families, Alumni, and Friends" to support your businesses (Weekly Newsletter)
Photo of band commemorating year of sponsorship
Proudly display your logo as a corporate sponsor (Large Logo) on our traveling equipment trailers
2. Gold Package – $500 contribution or equivalent service
Federal Tax Deduction letter – Chandler School Boosters is a non-profit organization
Advertisement in the programs at all of our concerts (Gold Section)
Announcements to encourage the "Band Families, Alumni, and Friends" to support your businesses (Weekly Newsletter)
Photo of band commemorating year of sponsorship
Proudly display your logo as a corporate sponsor (Small Logo) on our traveling equipment trailers
3. Silver Package – $300 contribution or equivalent service
Federal Tax Deduction letter – Chandler School Boosters is a non-profit organization
Advertisement in the programs at all of our concerts (Silver Section)
4. Bronze Package – $100 contribution or equivalent service
Federal Tax Deduction letter – Chandler School Boosters is now a 501c program
Advertisement in the programs at all of our concerts (Bronze Section)
For any of these options, simply complete the short sponsorship form. For Platinum and Gold packages, these options include advertisement space with your contribution; we will need a high resolution copy of your corporate logo.
Sponsorship Process:
The Perry Band sponsorship program will run for 1 year and we hope you consider renewing your support each year. The process to become a Puma Band Sponsor is as follows:

1. Complete Sponsorship Application and select which sponsorship level you want to participate (Platinum, Gold, Silver or Bronze)

2. Please complete the application and either deliver or mail to:
Perry High School Bands
C/O Brandon Kiesgen
1919 E. Queen Creek
Gilbert, AZ 85297

3. Checks can be made out to PHS Band Boosters.

4. We will quickly process your application and send you confirmation of your sponsorship program along with a non-profit tax deduction letter.

On behalf of all the students, parents and directors of the Perry High School music program we thank you for your generosity and support. We greatly appreciate and need your support to continue to offer an elite music program. Customized packages can be arranged. Contact for more information.